'Christ at Our Heart'
Curriculum Intent
Our vision for the children of St William's is that we develop the whole child with 'Christ at the Heart' of all that we do.
We aim to provide an engaging and exciting Catholic curriculum, which educates our children spiritually, morally, socially and culturally and takes account of the needs of the local community we serve.
Through our learning, we meet the requirements of the National Curriculum and adapt our teaching to embrace the needs of an ever-changing world.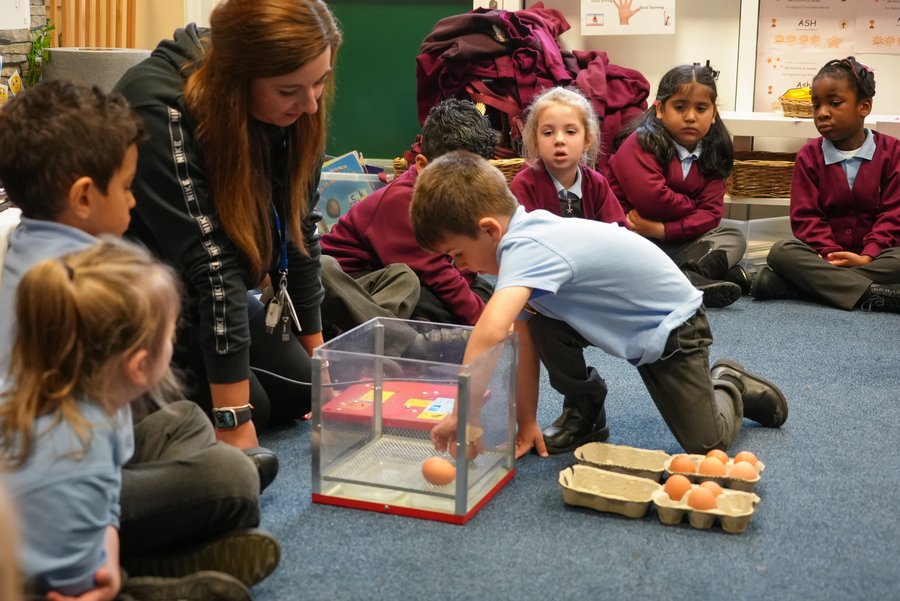 Our Virtues and British Values as well as our curriculum drivers of Faith, Reading, Oracy, Mastery, Enquiry, Diversity, Mental Wellness and Physical Wellness are interwoven through the entire curriculum so that we can develop virtuous, well-rounded children who are well prepared for the demands and challenges of both the wider world and their local context.
Curriculum Implementation
A School of Faith
Our school community is rich in faith with; Faith Leaders and Mini Vinnies lea
ding Collective Worship and acts of charity. We have strong relationships with the parish, and we build relationships with God, including positive self-image and relationships with others.
Through our Virtues to Live By, we teach our children to be kind and just individuals so that they develop positive relationships at school and across the wider community.
A School of Reading

We place reading and books at the centre of the curriculum as children who can read confidently are likely to achieve well in their learning. Developing a love for reading is one of the most effective ways we can create a love for learning and a love of knowledge and literature in later life.
Our curriculum is rich in high quality texts linked to all subjects. We have chosen these texts carefully knowing that they well engage and excite our children.
A School of Oracy

We believe that the development of spoken language is essential for children to grow and learn. As educators we must provide children with equity so that they feel that their voice is valued and develop into confident communicators. Children should be exposed to the different tiers of vocabulary from a very young age and as such the vocabulary we wish children to learn is carefully selected across all curriculum subjects. We teach children the skills of communication through phonics; reading; and dialogic teaching approaches such as talking partners and 'add, build, challenge.'
A School of Mastery
Our curriculum offers a no ceiling-approach to a child's learning. Having high aspirations and expectations are central to our curriculum offer. We encourage children to be resilient and independent learners who embrace new challenges.
A School of Enquiry
We look for opportunities for our children to learn from first hand experiences through enquiry and discovery and through the use of high-quality resources. During their journey at St William's, we encourage children to articulate their learning through play.
A School of Diversity
We are a school rich in culture, that celebrates diversity and what we can learn from one another. We promote the virtues of tolerance, respect and compassion so that we can effectively participate in our diverse local community. We are champions of an inclusive and a multilingual school with British Values at our core. We provide children with cultural activities and experiences that enrich their learning. We ensure that our children have a secure knowledge of the Catholic faith and other world faiths.
A School of Mental Wellness
We teach children to recognise and explain their feelings and emotions. We ensure all children and young people know who they can talk to about their feelings and problems and seek external support when needed. We ensure all adults in school can recognise signs and offer appropriate support for our families.
A School of Physical Wellness
We provide opportunities for children to participate in a range of PE and Sports activities. We provide calm, safe environments where children behave well and respect each other. We empower our children to live healthy lives by teaching them, though a broad curriculum, how to look after themselves and develop positive relationships. Following the Living Well Programme we plan the school day so that it allows opportunities to be active in our abundant outdoor space.
We are committed to providing expert support and resources for children with SEND so that they are able to fulfil their individual potential.
Curriculum Impact
Pupils will be able to go on to secondary education and future employment:
Having a strong relationship with their faith and modelling what God wants us to be with through their relationships with others.
Being confident readers who share their love of reading with others and understand the impact and importance of reading in our day to day lives.
Being effective communicators who can speak and write with confidence.
With the gifts of understanding, tolerance and compassion so that they can effectively engage in our diverse society.
Having the ability to form strong relationships that will enable them to become life long-learners and well-rounded citizens, who can make a positive contribution to our diverse and global society.
Understanding that being physical and mentally healthy will support them in their achievement and allow them to lead long and happy lives.
Knowing how to keep themselves safe and who to go to for help and support.
Click here for our SEND Curriculum Statement